What is an Associated Expert?
Associated Experts bring a depth of knowledge and passion to their clients in specialty areas that are relevant to families, and we sincerely enjoy collaborating with these fantastic professionals.
We at Cole & Associates fully support the independent practices of each Expert and we encourage you to contact them directly. Just let them know you found them here!
Life is a Team Sport and we are proud to share with you the names and contact details of others who are like-minded.
Danielle Saputo, BComm, DIA, ACC, CAPP, FEA
Legacy Coach & Family Advisor
Associated Expert
Danielle is a Life Learner dedicated to bringing out the best in herself and others. Danielle is a Business Graduate from Concordia University. She completed wealth management courses at the University of Toronto's Rotman School of Management and The John Molson School of Business in Montreal. She is an Accredited Certified Coach through the International Coaching Federation and The Coach Teaching Institute with designations in Emotional Intelligence, Resilience and Legacy Coaching.
READ MORE
admin
2021-11-25T09:32:02-07:00
She also trained with the Co-Active Training Institute group in co-active coaching. She is a Family Enterprise Advisor Designate achieved through the Family Enterprise Xchange and completed a Certification in Applied Positive Psychology through the Flourishing Center.
As a Family Advisor she is clarifying purpose, resolving conflict, and amplifying total wealth, where wealth is much more than financial capital – the focus here is on Human Capital. The basis of her family advisory role is: "Are you communicating in a way that the family is in Harmony?" As a professionally-trained Coach, Danielle's goal is to hold a safe space for her clients. She provides accountability, clarity and support on their journey of self-discovery and forward motion. The basis of her coaching is: "Are you living the Legacy you want to be remembered for?" Danielle also engages at speaking events sharing her story, knowledge and experience to help other Canadian families overcome the proverbial saying; "shirtsleeve to shirtsleeve in 3 generations".
Danielle is 3rd generation of a prominent Canadian Family Business.  She worked in her family's business until she married, moved to Ontario and began a family of her own. She is mother to 3 wonderful teenagers. She is President of Danuto Holdings, an investment company. She is a member of the Grove Society Executive Board and a Trustee for the Lakefield College School. Danielle co-facilitates parenting workshop within her community as well as a group of FEA's to share and learn. On the home front, Danielle organizes and leads family meetings, creates multigenerational games, coordinated the writing of a family values book which lead her to write her own book. Her focus is on building a family legacy and fostering financial literacy in the younger generation.  Danielle has a passion for travel, animals, nature and staying active. She plays the piano and clarinet and volunteers her time supporting her community.
Esther Jang, are BComm, CFRE
Philanthropic Strategist
Associated Expert
For more than twenty years, Esther has held an active role in the not for profit sector. Beginning as a volunteer and transitioning to build a second career leveraging her for profit experience to bring strategic counsel and expertise to her clients. Using her unique lens, she seeks out opportunities and build partnerships to support organizations to grow and diversify revenue and to guide strategic giving and philanthropy for individuals.
READ MORE
admin
2021-12-06T10:04:33-07:00
One of the key motivators for Esther is to build sustainability and long term support for organizations she cares about. Using this similar view, Esther works with individuals to guide them through their own philanthropic journey. At the end of the day, working towards a common goal of a better, kinder world is a legacy that we can all be proud of.
Most recent campaigns (last 5 years) where Esther was the sole lead and strategic counsel for:
$25M capital + $10M endowment – Arts Umbrella
$25M capital – Corpus Christi Parish School
Set the strategy and unrolled the campaigns.
Worked with and advised, senior leadership, philanthropists and volunteers.
Past campaigns:
A part of UBC's $3B campaign

Was the Faculty of Science's lead in funding the $7M+ renovation of a world class fin fish aquatic research facility.
Instrumental in facilitating the largest gift (at that time) from Dolby Corp to higher education.
In collaboration with the Communications Director, was instrumental in the redesigning of the research journal to align with the funding priorities and reach a broader donor and alumni audience.

Managed and worked with senior volunteer fundraisers to build sector support for BC Children's Hospital Foundation

Leveraged an untapped opportunity for banking institutions to include philanthropy as an online opportunity for customers.
Fundraising Strategic Work plans:
Review of current revenue streams and operations as it relates to the fund development department of an organization and provide recommendations.

Analysis of donor data – uncover gaps and opportunities
Review of staffing
Analysis of funding streams – uncover gaps and opportunities
Review protocol and governance.
Individual Philanthropy:
Working with individuals to guide, research and build legacy plans and strategic giving
Provide expertise to determine best fit for long term giving
Philanthropic Naming Assessment:
Review of an organization's site to value naming recognition

$25M – BC Women's Hospital Foundation
Mentoring and Strategic Counsel:
Work with Executive Directors and Senior Leadership to provide mentorship to build success into their fundraising roles.
Most recent clients:
InspireHealth
North Shore Women's Centre
The Bateman Foundation
Anxiety Canada
Arts Umbrella
BCSPCA
Created strategy and establish legacy portfolios for:
Roman Catholic Diocese of Vancouver
Anglican Diocese of BC
Arts Umbrella
Sam Sullivan Disability Foundation
Facilitated Strategic Planning workshops – most recent clients:
Laurier Institution
Vancouver Asian Canadian Theatre
Canadian Liver Cancer Foundation
Lead "Fundraising 101" Board training:
Arts Umbrella
Canadian Parents for French
Laurier Institution
Vantage Point
Published:
"5 Easy Ways to Leaving a Legacy" Nov 2013, Leave A Legacy, Vancouver Sun
Blog post and profiled as an expert fundraising though leader through BC Ideas, 2013
Speaking:
Legacy Giving – Where to start? – Fundraising Conference, Dublin Ireland, 2018
Introducing the Concept of Legacy Giving into your Parish, Catholic Stewardship Conference, Vancouver, BC 2017
Credentials:
CFRE – Certified Fundraising Executive, 2012
UBC – BComm, Sauder School of Business
UBC – Certificate in International Development
UK – Social Return on Investment, (SROI), Impact Reporting Workshop, London UK, 2013
Canadian Association of Gift Planners (CAGP), Original Banff Gift Planning Course, 2008
Community Engagement:
Current:
Volunteer Advisor – InspireHealth, Vancouver, BC – 2020
Volunteer Advisor – Project K(IN)D, Ottawa, ON – 2020
Volunteer Knowledge Philanthropist, Vantage Point, Vancouver, BC – 2020
Philanthropy Day, Awards Selection Committee Member, AFP Vancouver Chapter – on hold
Past:
Executive Committee Member, Program Chair – CAGP, Vancouver Chapter
Co-chair AFP Fundamentals Committee, AFP Vancouver Chapter
Board Member at Large, Open Door Group, Vancouver BC
What's important in my life:
Family – Katherine & Chris XOXO
Lifelong friendships,
Kindness
Constant need to learn and be curious
Travel and new experiences
Love of jewellery
Karlee Vukets, CFP
Certified Financial Planner & Coach
Associated Expert
Karlee's deep commitment to bridging the communication gap within families began from her own lived experience. As part of a family enterprise, she understands the intricacies that come with working with those who are closest to you.
READ MORE
admin
2021-11-25T09:45:17-07:00
Karlee channeled these learnings and adapted them to create her own coaching program, drawing from her certification in established professional training programs such as Coaches Training Institute (CTI), Job Effectiveness Coaching, and Organizational and Relationship Systems Coaching (ORSC). In combining her experience as a coach and Certified Financial Planner, Karlee works with Canadian entrepreneurial families to help the rising generations develop their own path, their own passions, and their own voice either inside or outside of their family businesses.
Karlee obtained a degree in Business of Cinematic Arts from the University of Southern California which was fueled by her dual passions of business and the arts. During her time in Los Angeles, she created a thriving career in live-television production on shows such as American Idol, American Music Awards, and the Primetime Emmy Awards.
Outside of work, Karlee dedicates much of her time and expertise to the charitable sector. She is driven to make an impact through her roles as Executive Director of the Michael and Karen Vukets Family Foundation, Board Member of Canada's National Ballet School, Board Member of The Glenn Gould Foundation, and member of the inaugural Vision 2020 New Philanthropy Journey at the Toronto Foundation. Through the Vision 2020 program, she co-founded the aujla + vukets foundation with her friend Raji Aujla with the aim to mentor and fund female-led social impact ideas.
Karlee lives in Toronto with her fiancé Brandon, and she would say that her favourite title of all is being "Auntie WeeWee" to her beloved 4 young nephews.
Melissa Johanson
Health Coach
Associated Expert
Melissa brings her extensive expertise and passion about health, business, and life in supporting executives to cement full control so that they can attain their target weight, increase their energy levels, and effectively manage their stress. With 18 years of experience in healthcare – starting out in supplement sales, 15 years as a Registered Massage Therapist and over three years as a Certified Health Coach – Melissa understands the quality of your health affects every aspect of your life. With better quality health, her clients not only look and feel better, but notice improvements in their business and family relationships. With very busy schedules, most of her clients have come to value that someone else is thinking about and organizing the health-related aspects of their lives, leading to Melissa being known as the "Health E.A". She is driven by measurable results that last a lifetime and supports her clients to get just that.
After working so many years in healthcare and seeing people slip through the cracks of the system and stay stuck being overweight, in burnout, susceptible to illness and disease, she is inspired to give people a different experience of healthcare. Melissa's determination is to support people back to their natural state of well-being for a long, fulfilling, accomplished life… after all, health is wealth! Melissa walks her talk and lives an active outdoor lifestyle in beautiful Squamish, BC, and is a seasoned World traveler and connoisseur of global cuisine.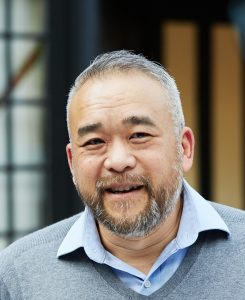 Tyson Mark, CISSP
Technology Expert
Associated Expert
With nearly 30 years of experience with designing, managing and securing technology environments, Tyson advises and helps organizations align their technology strategies and cybersecurity objectives with their business goals.
Throughout his career, Tyson has fulfilled numerous technology roles with a variety of organizations, predominately in the Canadian Financial & Wealth Management sector. Notably, he designed, built, deployed and managed the national networks for both the Investment Industry Regulatory Organization of Canada and the Mutual Fund Dealers Association of Canada.
He is an active participant with several Cybersecurity groups in the Greater Toronto Area. As a Certified Information Systems Security Professional (CISSP), Tyson lead the Toronto Chapter of (ISC)2, the internationally recognized organization of Cybersecurity professional accreditations, growing its membership from 500 to 1500 and organizing nearly a dozen information and networking events throughout 2019. Recently in 2022, Tyson participated in the development of a Cybersecurity Self-Assessment tool to assist small-medium sized financial institutions with evaluating and developing their security programs to better protect the Canadian investor.
Tyson considers himself extremely fortunate to have had the opportunity to create long lasting connections with many of his past colleagues and especially values the ones of his staff who "started out" their careers in Technology with him and who have gone on to be successful in life, family and their own careers. Tyson is passionate about giving back to others through active participation in Mentor/Mentee relationships and freely volunteers his time to educate the most at-risk groups of technology risks and how they can stay safe online.
Tyson lives in Toronto with his wife, Catherine, and their two daughters. Tyson and Catherine are passionate beekeepers and enjoy their 64 acre property in Prince Edward County, where they are rejuvenating the land and forest.
Disclaimer: 
Cole & Associates is a separate legal entity to our Associated Experts and as such Cole & Associates, nor any of its employees or subcontractors, assume any legal liability for the work completed by or performance of an Associated Expert.
Should you engage with these independent Associated Experts, you will be responsible for reviewing and understanding the terms and conditions of their services.